Modern and elegantly furnished, the 4-star Hotel Carlton in Treviso provides accommodations complete with every comfort on the city ramparts near the Altinia Gate.
Well-service by public transportation and not far from the train station, the Hotel Carlton is popular with business travelers and those staying in Treviso on vacation or to see one of the numerous sports events.
Our hotel includes modular meeting rooms, Wi-fi internet, a reading room, parting lots and a special discount with the nearby spa.
The receptionists are always willing to book your excursions or guided tours, provide you with helpful information on how to get around town and organize transfers to easily reach your destinations.
Restaurant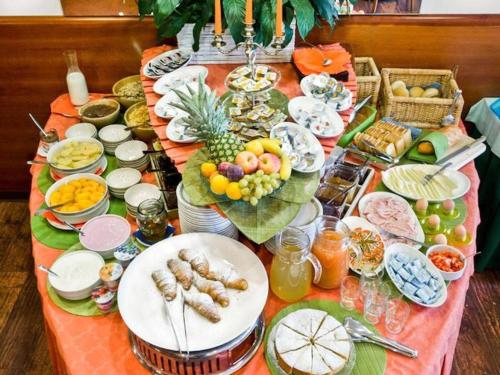 The Hotel Carlton restaurant serves the best Italian and international cuisine, expertly prepared and served in the cozy dining room or in the enchanting settings on the hotel's Medieval ramparts in the summer. Each meal is accompanied by locally produced and acclaimed wines. If you love pizza, the hotel is partnered with the best pizzerias in Treviso to guarantee fast room delivery. The restaurant is reserved for hotel guests only.
Services & Facilities
· 24h Front desk · Wi-fi internet · Fax service · Newspapers · Airport transfer reservations · Tourist information · Tour reservations · Guided tour reservations · Safety deposit box · Baggage porters · Night porter · Luggage storage · Ironing service · Breakfast (7 AM - 10:30 AM) · Laundry service · Elevator · Small pets welcome · Bicycles · Parking · Lobby · TV room · Terrace · Bar · Snack bar · Breakfast room